With the craziness of reopening just a few days ago, we would like to take the opportunity to show you more of our Island Plantation World. During the last month, but also especially during the last few days there were a lot of things happening in our little paradise on the Caribbean Sea. The entire team went way more than the extra mile to make the Island Plantation Resort a divine, spectacular and unique home for our future visitors. We are proud to announce that we now have many new, exciting facilities for our guests to offer.
But where to start?
Let me tell you about our new Beach Club and Restaurant today first. The Beach Club is located on right beautiful Bluff Beach offering delicious, tasty finger food and snacks in case you get a little hungry while playing in the Caribbean waters or exploring the jungle and beach. New chase lounges, sunbeds and sunshades create the ideal setting to enjoy an unforgettable day at the beach. Great service, amazing atmosphere, ice cold drinks and delightful snacks will make your stay just perfect. And believe me, that is just what you need once in a while; a little bit perfection.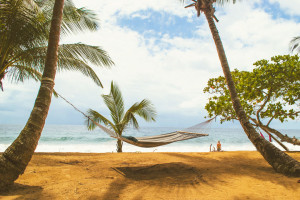 If you haven´t been to Bluff Beach yet, now is definitely the time to come. A cloudless sky and the now calm Caribbean waters make the perfect conditions for the breathtaking scenery of Bluff Beach. (If you have been to the archipelago before, you know how Bluffs´ water can get during other months of the year) The golden sand seems nearly endless and when hanging out in our Beach Club Sipping on a cold drink or fancy cocktail you will just forget all the worries around you. So Bluff Beach is always worth a visit, but now we hope to make this special place even more appealing to you. The scenery and our Beach Club will definitely make up for the adventurous ride to get out here!
Enough about the beach, lets take about the real deal in holidays and life in general.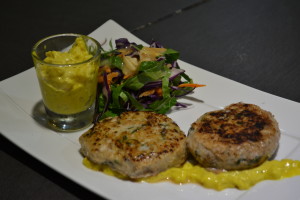 Food for example! But not just only any food.No, our new Chefs take cooking to the next level.Carefully chosen ingredients blend together perfectly to create a mouthwatering tropical experience. Let me tell you, eating in our new Mora Mora Terrace Restaurant will definitely be a culinary highlight when visiting the Archipelago. Our chefs are enjoying Caribbean life and enchant the guests with their "haute cuisine". Only the freshest ingredients and a hint of french passion make the way into their kitchen and that´s where the magic begins. It would be a hopeless endeavor trying to describe their creations, you better come here and check them out for yourself! Just this much, they are very experienced cooks who have been working nearly all over the world in the best Restaurants and Hotels. Stars like Rhianna and P. Diddy have been among his guests and loved his food – and what is good enough for them is also good enough for us and our guests 😉 My personal favorite is the Mahi Mahi Fish in white wine sauce. Oh my gosh, just thinking about it makes me getting hungry again…. But also meat lovers and stricter vegetarians than I am will get their moneys worth in Mora Mora Restaurant. The kitchen team is completed by Ricardo- he is young and sweet, doing his best to learn as much as possible and help wherever he can… 
Oh, I completely forgot to introduce myself. I am K!, working at Island Plantation since February and again since the reopening three weeks ago. Most of the time you will find me running around organizing things or taking care of you, our guests. If you come visit I will always find a moment to show you around and chat with you though.
How about telling you more about the entire team next time? Also I could describe to you what its like to build and fill a brand new tiled pool off the grid on a Caribbean Island…Surprises everyday, believe me 😉
I hope to see you all soon in person!
XX K! for Island Plantation