To me, Bluff Beach is on of the most beautiful beaches around the Bocas archipelago.
And I am not saying that because I work here 😉
Bluff Beach is never crowded, only a handful of guests find their way out to this breathtaking spot; mainly our resort guests and a few experienced surfers who dare to concern Bluffs swell i
n surfing season.

You could walk down the

golden beach

for hours and probably not meet a soul, merely surrounded by the lush,

tropical rainforest

on one side and the

gorgeous Caribbean ocean

on the other…

I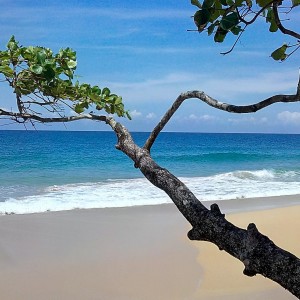 love the tropical waters of Bluff Beach, with or without waves. Even if the swell is to high to swim, I could spent hours just sitting by the ocean watching the waves and surfers ( Don´t worry, since we built our beautiful tiled pool our guest always have the chance to dip into some water on hot days) And then again, there are months where Bluffs waters are cristal clear, completely flat and without waves. Perfect for cooling down and goofing around…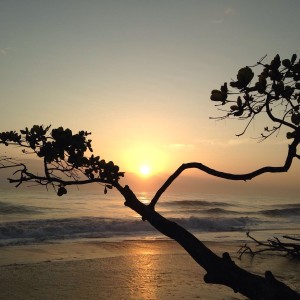 We love our special beach and this is why we want to embrace and share its beauty with our hotel guests. We encourage you to spent the most romantic hour of the day with us down at the beach. Three times a week we invite our guest for a glass of wine in our Mora Mora Beach Club during sun set. No picture could possibly live up and capture the magical atmosphere down at the ocean at that time…
When being at Island Plantation and out at Bluff it is easy to forget the time…. Even the date, the days, the month… 😀 Even though the days in Bocas seem to float by and there is no real difference between week-days and week-ends, there is still one day which is special, not only to us but also to many other people around the world for all different types of reasons.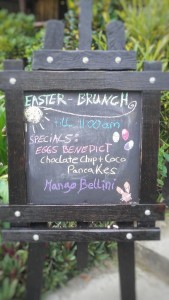 SUNDAYS are holy, easy going, rewarding and unwinding.
~ Time to reboots, reset and relax ~
Therefore we decided to extend our breakfast hour on Sundays till 11 am and offer a special Sunday Bluff Brunch with a choice of delicious Eggs Bendict Island Plantation Style topped with our homemade sauce Hollandaise or Tropical Chocolate Chip and Coco Pancakes, both served with a delicious glass of Caribbean Orange – or Mango Bellini…
What a perfect way to start a perfect Sunday 🙂
There are so many things to experience and explore out here at Bocas Bluff Beach. Even though Bocas is now kicking into slow season we here at Bluff Beach are always active. We are pretty much booked up all year round, but then again we are a small, intimate Beach Resort with only eight rooms. Bluff Beach is gorgeous any time of the year, with high waves and perfect swells during November till March and calm waters between April – May and September –- October.
The golden beach is captivating all year round, just presenting two different, equally beautiful faces, depending on what you are looking for!
We cannot wait to meet you out here!
K! For Island Plantation