2015

just ended and I guess there is no better time for looking back what we achieved in that special year.

(… like everybody does, right 😀 …)

Many things have happened, many changes were made:

The overall goal of Island Plantation has not shifted, but many improvements and upgrades were made in order to serve our guests better. We still aim for perfection, we want to make our niche, combining unique jungle experiences with lush luxury in order to create unforgettable and inimitable holiday memories for our guests.

For this purpose we closed our resort during the less busy months of last year and built four more rooms in order to accommodate more guests and also provide more room options.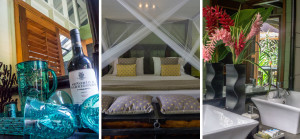 The new rooms are identical in style with the old ones, implementing an open Bali concept with large king size beds, handmade furniture and a private terrace facing the jungle.
All rooms are carefully decorated, each with a lot of love and an eye for details.
We are especially proud of our brand new, beautiful tiled pool.
It was quite a project to built and get it running and therefore the result makes us even happier.
Being on a Caribbean Island you already get used to things not working out the way you planned but building the pool took this experience to a whole new level. Severe difficulties occurred and then the weather threw a monkey wrench in our plans.
It just wouldn't´t stop raining so all the construction was slowed down. And when the pool was finally finished, it wouldn't rain at all! ?? How to fill a pool when the entire island is low on water?? That was the BIG question. And the answer is wait, wait & beg somebody to bring out trucks of fresh water from the reservoirs all the way to Bluff..                                                                                                (We did a lot of begging and waiting, that´s for sure!)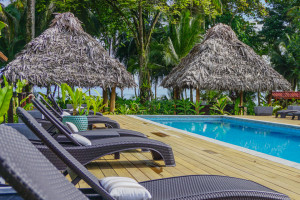 Any droplet of rainwater was collected and we also used the well behind our house to finally get the pool filled. Once the water was in we also had to install the filters and balance the right amount of natural chemicals in older to keep the water PH at perfect level.
I forgot to mention, building the pool also involved relocating our pond and all its inhabitants of course!
           To improve is to change;

                                          to be perfect is to change often. ~ Winston Churchill
But the pool is not the only new facility for our guests to use. We upgraded our Yoga Platform high up in the Jungle. We talked about it before and words can not describe the chimerical sphere and the incredible atmosphere up there. I guess it´s best if you come visit us and check it out for yourself…:)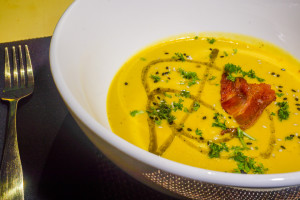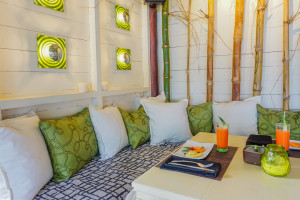 Additionally, we also gave our Restaurant a make-over. New, fresh and with a different concept we now indulge exclusively only our guests with fine high end dinning and lunch options. We even gave the restaurant walls a new coat of paint.
True Bali style our Bamboo room is now blazing in new resplendence. The perfect location for great dinning experiences.
Oh and I also got a new "office"
I can now proudly welcome our guests in our beautiful reception rancho.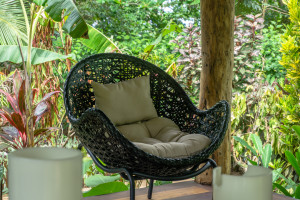 With the OCEAN on my back and the sound of nature around me more than one guest was quite jealous of my workspace. But don´t worry, we built a second rancho right next to "mine"; for our guests to hang out, play games, read a good book or simply do nothing 😉
We are looking back on an exciting year and we are equally excited to welcome new guests and old friends during this new year!
Hope to see you all soon!
K! For Island Plantation