Guest Units
BAREFOOT BLISS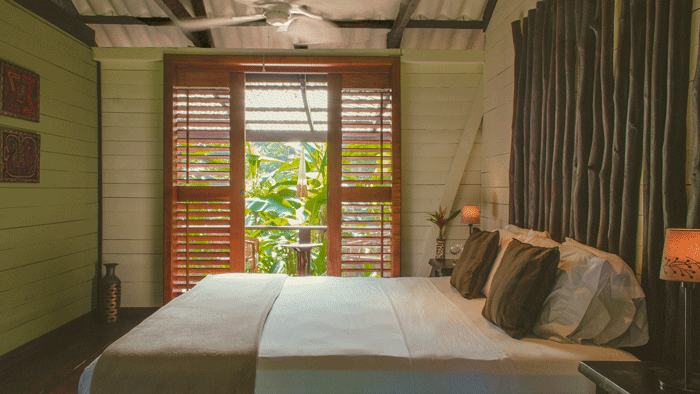 All the awesome Bali inspired Guest Units are designed for one or two persons (we cannot accommodate more than two people per room). Amenities include heavenly king-size beds with mosquito-net enclosure (usually not needed), outdoor sitting areas, pillow-top mattresses, fresh flowers, and semi open-air private bathrooms. Two of the Superior Poolside Rooms can be converted from a king size bed into two twin-size beds (individuals). If you book a Superior Poolside and would like two individual beds, please request so in your booking.
Island Plantation is a television free property but offers complimentary basic Wi-Fi and basic cell phone service (Cable & Wireless). All rooms at Island Plantation are strictly non-smoking. Please note that due to the Hotel's Off-the-Grid location (limited power supply) it does NOT offer Air Conditioning in the guest units nor support for the use of hairdryers/irons (or any other small appliances that draw vast amounts of energy). Natural ventilation and a powerful floor fan ensure comfort and creates the ambience to compliment the sounds of the rain forest and the ocean.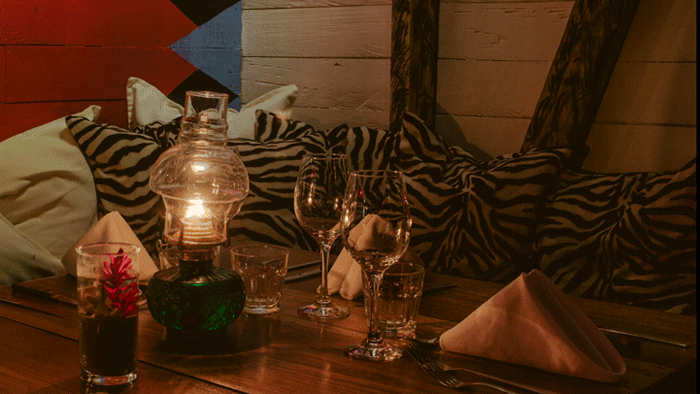 These three guest rooms have spacious front and back terraces making up a total of 50 square meters of space. The back terrace facing the lush jungle and banana circles is perfectly private connecting to the large open Bali-style bathroom featuring double sinks and rainforest shower, comfortable with its chaise lounges for relaxation, reflection or drinks with that special person, nude perhaps? The front side of the guest room has another deck comfortably furnished with direct views over the pool down to the beach in front of the property.
Gorgeous room with terraces all around! Indulge on your own large beach view deck (through the palm trees!!) comfortably furnished with chaise lounges and a sitting area facing the ocean. A second small private back terrace in the jungle connects to the open Bali-style bathroom with double sinks and rainforest shower. Lastly the entry terrace with its intimate sitting area and direct access to the pool perfects jungle luxury accommodation. Life's a Beach!
SUPERIOR POOLSIDE GUESTROOMS
These three rooms are beautifully appointed Bali-Style room situated directly off the pool deck. A private back terrace facing the jungle is connected to the open private bathroom with double sinks and rainforest shower while a front terrace gives you direct access to the pool. Choose between a King Size bed (two twins put together for a couple) or two separate Twin Beds.
This is the ultimate room indulgence at Island Plantation (couple or single)! A short walk through the gardens and directly in front of gorgeous Bluff Beach and the surf awaits your personal space consisting of almost 70 square meters (600 square feet) of tastefully appointed tropical functionality divided over two floors. Below where you enter is your cozy bedroom with a four post king size luxury bed with sliding doors opening up towards the Bali-style double-sink bathroom with its huge rainforest shower space and adjoining garden. On the second story you will enjoy your personal gorgeously appointed living space with sliding French doors opening up to the wild and remote Bluff Beach right in front of you. Enjoy your own living room and a small but fully functional kitchen and dining space where you can prepare anything from your own morning coffee to full meals (shop in town before heading to Bluff as there are no stores/markets at Bluff Beach!).
Chose this unique Bluff Beach location and be mesmerized by the virgin beach and its surf, or simply watch the occasional small crowd that gathers at the famous BomBom tropical Beach Bar. All-wood construction, beautiful locally crafted thatched roofs, stone bathroom features, Plantation hand-crafted and Bali imported furniture all combined with an unspoiled rainforest location will set the tone for an unforgettable get-away!
Off The Grid Experience
As Island Plantation is an off-grid Eco-Resort, we take advantage of state-of-the-art solar energy generation, rain-water catchment, septic sewage processing, permaculture gardening/water management techniques, and natural ventilation to provide you a comfortable stay. Should you wish to stay connected to the outside world, we offer basic wi-fi throughout the property. There is also cell phone service (+Movil) on the beach in front of the hotel. We ask our guests to please be conscientious about conservation at Island Plantation as the resources off-grid are limited!